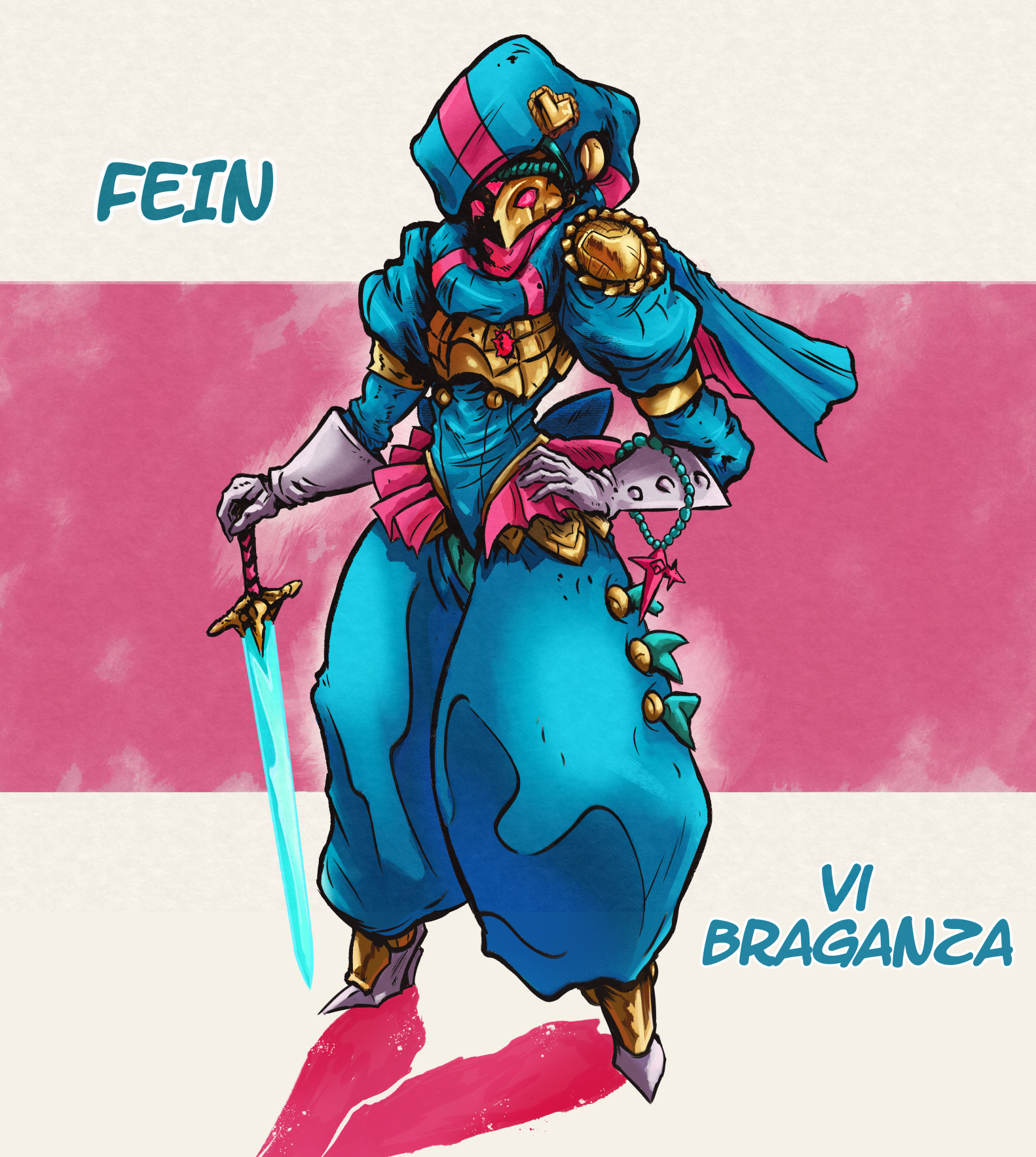 Fein vi Braganza, unlike her cognomen, heralds originally from Edom, the Middle Kingdom. Born to a ailing minor noble house, with a titleless drunk of a father. Growing up peniless, what status they still had would soon be sanctioned to erasure following the Troublesome Era in Edom that saw many surviving houses consolidated or, in the case of Feins house; eliminated.
With no suitor, nor funds or sponsor for the academies of Edom, Fein would find herself joining the armed militia to pay off the mounting debts of the family. Little more than a unfavored city watch regiment, while she excelled in her duties she would spend several years before finally being promoted when the local Fulcrum forces absorbed her unit when it was offered up for joint service by the local lord. As the Fulcrum force expanded, so did its attached Dame Order, where Fein would find herself squired to a Dame of particular foul temperament.
It was this force that would be dispatched to burning Braganza, and where a thousand Dames are said to have fallen against the Shaper. For her actions there, Fein would not only earn her cognomen and place in the Dame corps, but also renown as the Savior of Braganza. With the few survivors, Fein would join the Hunt and recorded in the Logos of the Fulcrum, eventually bring an end to the Sin of Braganza.
Having taken a leave of absence, Fein would seek out the last of the Dame Perpetual, and quest to join that peculiar order. It was on that pilgrimage, venturing deep into the lands of Moab, thrown into chaos during the summer of rage, that she would encounter a persecuted group of refugees, caught between loyalists and rebel forces. It is said that in the shadow of a single willow tree Fein slew a hundred rebels to save a single family.
Journeying with them, Fein grew to know Lady Corinth Densha, like her from a minor noble house, in name only, but in other regards Densha was everything that Fein was not. Above all else, Densha possessed conviction and ambition, the traits Fein knew as the mark of true nobility, but spoke and moved in a manner Fein was unfamiliar with. Densha offered Fein a new path, and with the memory of Braganza close, Fein would accept that offer and eventually see the civil war of Moab brought to an end.
While in the service of the Prince-Emperor of Moab, during those many years of struggle and war, Densha told Fein the truth of things and revealed her many lies besides. The scars of Braganza ran deep, and in that moment Fein could not accept the embrace of the enemy. She left Densha-turned-Modronoth behind. The next time the two met, would be the death of Fein.