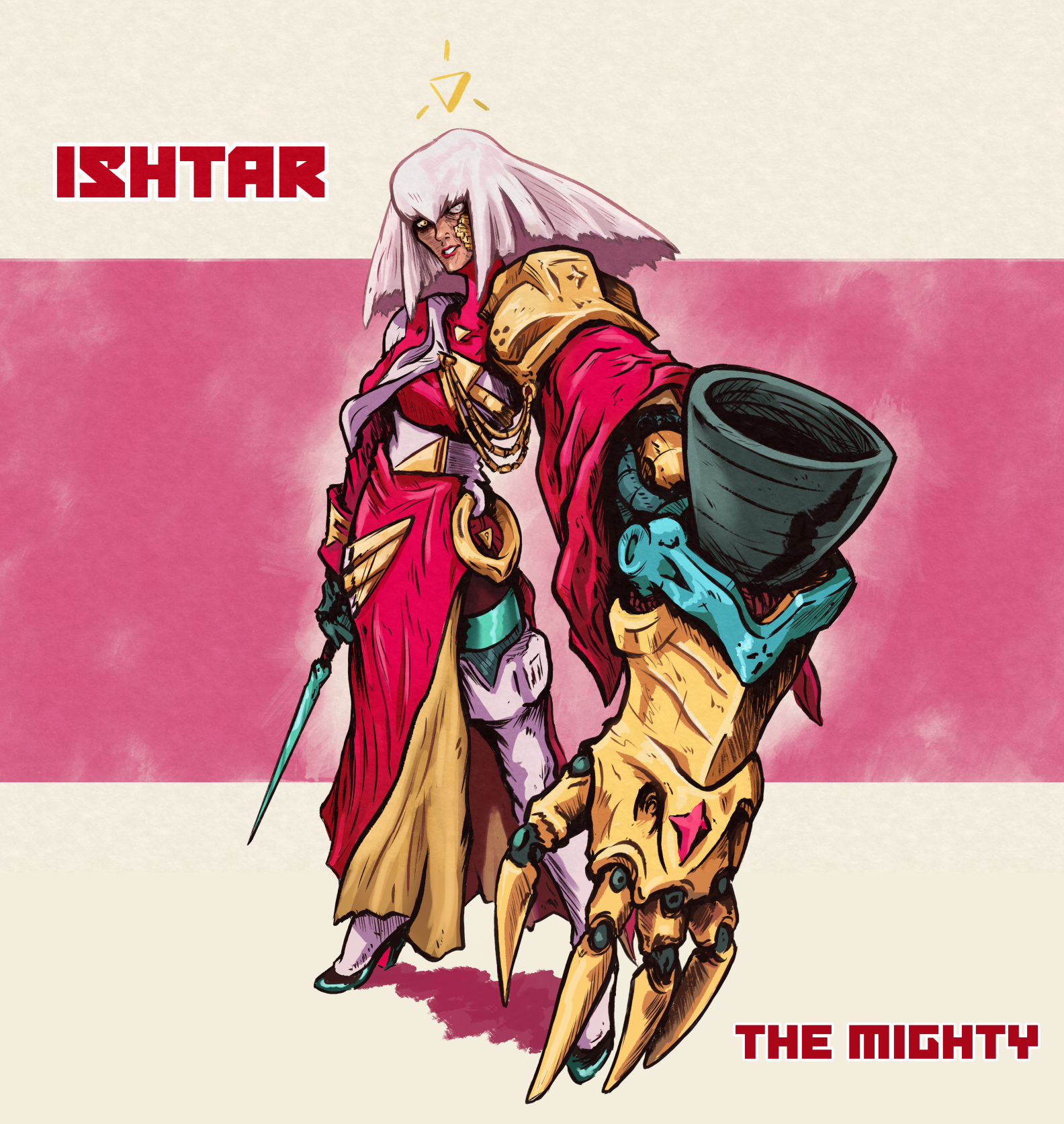 The Mightiest Avatara and the only one not a Shaper, born or otherwise. Founder and commander of the powerful Mataim corps, which shares her particular fighting style, Ishtar is matched by none other Avatara in close combat and has laid low more Siol Diseiders than any other. A preference for ending battles quicky, only Avatara Indram and Boman matches her reputation as the top Fulcrum frontline commander, and Artam has on more than one occasion entrusted her with nearly a third of all Fulcrum forces to best the Siol. Favor, influence and power that have made her few friends amongst the other Avatara.
Tall in stature, Ishtar heralds from the lands of Moab, although she is rarely seen there, in favor of Ordos and Ebania. It is unclear if this is due to her many frontline and Mataim duties, or out of personal reasons. One of few clues to her background is the large whigs she wears, in the fashion of Moab. Rarely seen outside of a Fulcrum uniform or armor, the other easiest identifier is the large metalbound arm. Once one of the worlds top five Dames of the blade and a close companion of Saint Belindar, she now foregoes the sword entirely in favor of the javelin and fist, a technique Ishtar developed herself to fight Shapers. Few others will as readily throw down with Shapers and Voidspawn alike.
Neither noble nor shaper born, the woman who would become the Avatara Ishtar once hailed from a long line of proud builders, and in Jennat, few other Avatara is as well liked by the people. For when she met Belindar there are two prominent stories, either she was one of few childhood friends, or a late disciple to join Belindar on her path. Perhaps there is truth in both stories. Either way, she was at Belindars side when they defeated the Shivans, and there is a rumour of rivalry between her and Avatara Termagant ever since.
As for the war that would split the Grand Siol asunder, Ishtar sided with Indram when her home was destroyed in the first Breach. She was amongst the first to join Artam to fight the Siol, and during those first chaotic years, the survival of the Fulcrum hung on her holding front more often than not, and many of the Dame Orders would join the Fulcrum by her example. At the battle for the Stairs of Woe did this choice lead to her parting with her master Belindar on bad terms, two arms and an eye short. Although in favor of Ishtar, there are no records of anyone else surviving a confrontation with the Saint of Blades. Indram found her severed body, and saved her life. The Avatara would gift her two sets of handmade glas and golden arms, which is said to still be in her possession. The scars she choose to keep, of certain sentimental value as a parting gift of Belindar.
Although she would turn down any offer of noble rank by the Fulcrum, she did accept a personal symbol; The thunder struck moon.