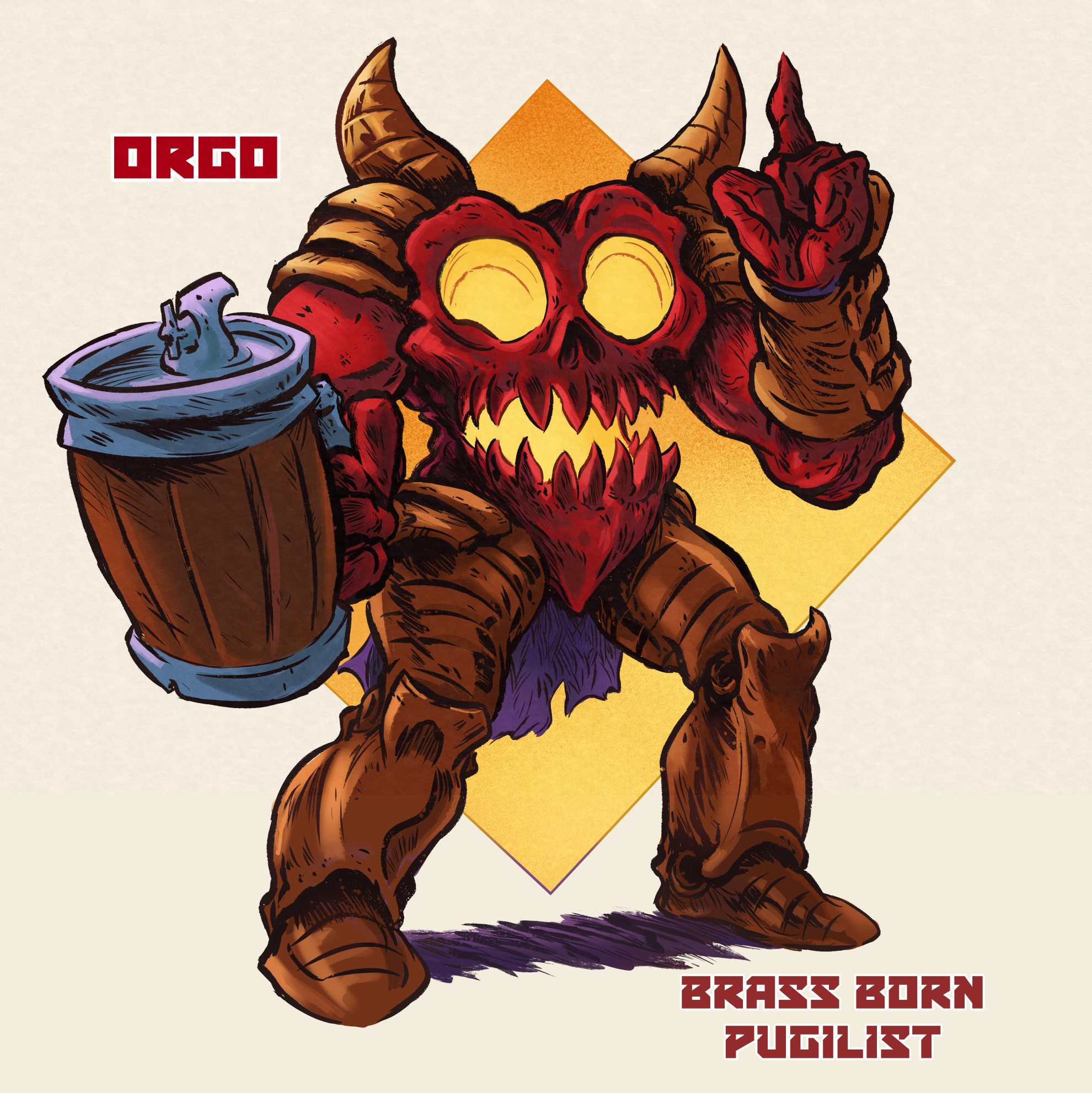 While known in human space as a mono-nomadic culture of travelling pugilists-for-hire, the Brass Born spends only one out of six (the Brass Born themselves would not agree on any specific number) life stages as nomads, accruing what they can only translate as "Sufficient Grit" before they are willing to return home.
Brass born society is a surprisingly complex culture organized around "Knuckles", "Horns" or "Teeth", depending on which Brass Born you ask, which they forge into the largest possible size, and out of over two-hundred and sixty-six hues of layered colors, most of which are indistinguishable by humans. These artifcats serve no other purpose than show the great ability of its creators. For the nomadic Brass Born, one of their main goals seem to be the acquiring of vast quantities of minerals and metal for this purpose.
Renowned mostly for their role as travelling pugilists, the Brass Born take great pride in their considerable smithing and crafting ability – most importantly, each individual is expected to craft their own set of legs, as they are born with severely underdeveloped legs and spend their entire first life stage building up their arms.
Nigh immune to Shaping, Siol researchers have speculated they may have some sort of Void-related origin, although humans have been unable to follow or track any individual Brass Born back home, as most appear to get themselves killed before accruing "Sufficient Grit". That is not to say a Brass Born is easy to kill, as there are no known human weapons that can accomplish such a feat, the Brass Born simply have very little sense of self preservation or fear and will happily get into a seven day slugging match with a greater dread worm, neotitan or unfolded hylden. Usually it is the state of self-petrification after exhaustion that the Brass Born enters that render them "dead". At least as far as any human has been able to observe.
As such, they will gladly take on any work, as long as it is paid for and although they do not appear to need sustenance, they consume vast amounts if able. Especially cold beverages, as they find the resulting steamcloud both pleasing and entertaining. Most of all though the Brass Born enjoy fighting, and most of all they value technically challenging battles, where their immense strength is not the deciding factor. The Brass Born of the Pugilist Path especially aim to learn as many fighting styles as they can, and will seek out anyone who knows a unfamiliar way of fighting.
As for Orgo. well, Orgo isn't returning home anytime soon.